The Venue of the 6th European Symposium on Biomedical Engineering - ESBME 2008
is the Center for Mediterranean Architecture, Chania, Crete island, Greece.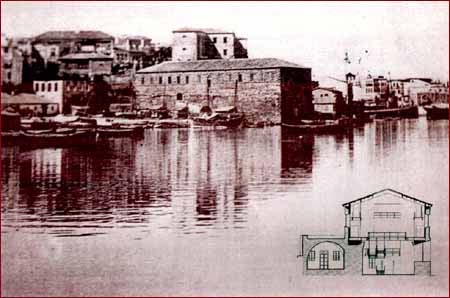 The Centre for Mediterranean Architecture, a new cultural institution of the Municipality of Chania, is located in the "the Great Shipyard" (Megalo Neorio or Great Arsenal), the last building on the west side of a complex of 17 shipyards. It is a great monument of the Venetian times that was recently renovated.
Since 2002, the "Center for Mediterranean Architecture" is a venue for conferences, seminars, concerts and other cultural events.
Chania Map (Symposium venue is marked with No 5 - the Great Arsenal)

Click on the images to enlarge.
Chania is the second largest town in Crete with about 60 000 inhabitants. It has preserved more of its old character than any other town in Crete. It is a beautiful and picturesque city, full of reminders of the past (especially of the Venetian times) at every corner. Chania is the capital of the Prefecture and it is the administrative, economical, communications and commercial center. It is a city of unique beauty, filled with an abundance of fragrant flowers, and carrying a rich cultural heritage. Ancient and modern monuments, the Venetian Harbor and the Old Town with its colorful neighborhoods, the exquisite traditional dishes and the friendliness of the inhabitants will make your stay unforgettable!
More info: Municipality of Chania
Crete. The lowest end of Greece and Europe. The birthplace of civilization all around the world. The island with consecutive alterations of sceneries attracts visitors and offers a trip to yesterday, that everyone would want to keep as a lifetime experience.
Crete is the biggest island in Greece. It is situated among Aegean and Libyan Sea. It is the crossroad between East and West, Africa and Europe. Due to this strategic location, Crete was always the bone of contention of every era. The geographic location as well as the contact with different civilizations, contributed to the special culture of this island. Cretans are famous for their hospitality (Xenios Zeus, the god of hospitality, was born in Crete), their love towards their country and the preservation of the local customs.
More info: http://www.travel-to-crete.com